All In Or Fold
7XL Special Poker Game
All In or Fold is a fast poker game that is suitable for players who know how to make quick decisions. The rules are simple and easy. Each player receives two cards (in Texas Hold'em Poker) or four (in Omaha Hold'em) and must make one decide whether to go all-in or fold and wait for the next hand.
The game is suitable for players with a bankroll of all levels. Starting at $0.05-$0.10 blinds and $1 buy-in for Texas players and going up to $100-$200 blinds and $1,000 buy-in for high bankroll Omaha Hold'em players.
It's important to remember, the tournament entry fee is fixed, every player who enters the table pays the same amount of entry fee and receives 8BB (except in a game with $0.05-$0.10 blinds where you will get 10BB). If you lose, an automatic payment of another buy will be made, if you don't want to play, leave the table.
Remember, if you are joining a table that is already running, the players on that table probably will have much more chips than you, so look for the tables where the players have a low amount of chips.
All in or Fold Game Rules:
The game will start as soon as there are 2 players sitting at the table and up to a maximum of 4 players.
The thinking time is 12 seconds, with no additional time in case of disconnection or from the time bank.
You can play Texas Hold'em Poker and Omaha Hold'em variations.
There is no any betting rounds, only one decision All In or Fold.
Players can remove chips off the table while playing.
If you lose, another purchase will be made automatically.
All In Or Fold is the only game where you can take the amount of chips you have off the table during the game to avoid a big loss.
How do you find the All In or Fold game?
In the main menu of 7XL Poker, click on All In Or Fold (see the picture marked with the red arrow).

On the screen that opens you will see all the All In or Fold games that are taking place. You can filter the games (see arrows) by Texas Hold'em, Omaha or All In or Fold – Sit & Go (Tournament version of All In or Fold). At each table, you can see the number of players and thus choose the table that suits you.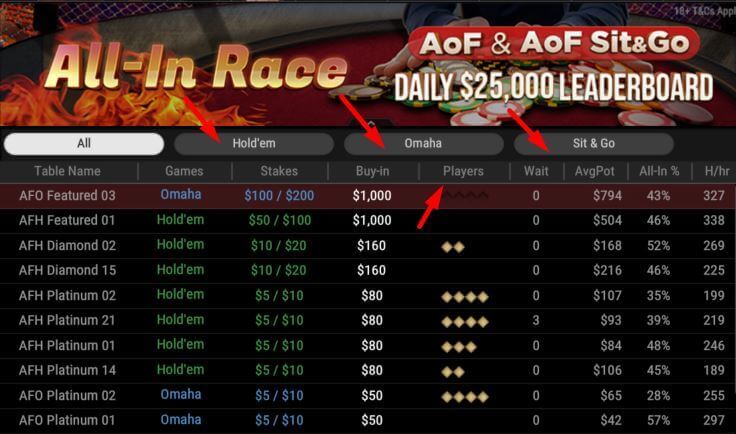 If you have chosen a table that has a free seat, you will be seated immediately at the table – which is designed like a wrestling arena and the action will begin immediately. If no space is available at the table, you will be added to the waiting list.
All In or Fold – Jackpot
One of the advantages of playing All In or Fold is the jackpot. Players who participate in this game can win a piece from 7XL's big jackpot if they get one of the premium hands.
In Texas Hold'em poker game you will win the jackpot if you get a straight flush or higher (and only if you used both your pocket cards with the community cards). In Omaha Hold'em you will win the jackpot if you get a royal flush.
The jackpot amount is updated every moment and is visible to everyone on the right side of the main menu, or on the top left side of the table where you play. The amount you can win is a proportional part determined by the height of the blinds you play. For example:
Blinds $0.05 – $0.10 – will receive 0.01% of the Jackpot.
Blinds $0.25 – $0.50 – will receive 0.06% of the Jackpot.
Blinds $1 – $2 – will receive 0.2% of the Jackpot.
Blinds $100-$200 will receive 10% of the Jackpot.
More Action – Bingo All In or Fold
To get players to stay and play a lot of hands, the system added another side game (while you are playing) the well-known Bingo game. As soon as you enter the game you will see on the left side, a square with 16 small cubes with small poker cards inside. If one of the pocket cards you received appears on the bingo board, the system will show you. If you won the hand (with showdown only), your card will be marked with a star on the bingo card. If you manage to complete a straight or diagonal sequence, you have bingo and you won a prize (the height of the prize is indicated by an arrow).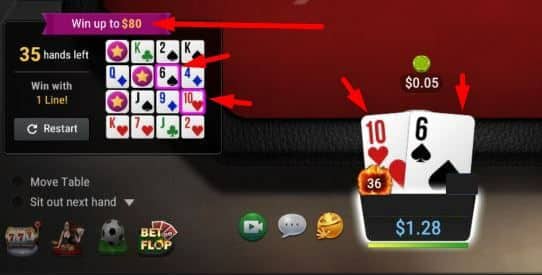 Bingo Rules:
You must complete a straight within a maximum of 50 hands in Texas Hold'em and within 20 hands in Omaha Hold'em.
Prizes go up to $16,000 in the Texas Hold'em game and up to $8,000 in the Omaha game.
Only when you reach Showdown and you won, one of your pocket cards will be automatically marked on the bingo board.
If you left the table, your bingo board will be saved for one hour but if the table you were at closes, then the bingo board will be reset.
All in or Fold – Sit & Go
The All In or Fold is a fast poker online game that can cause pretty quick losses to players who have made bad decisions or got into a bad run. Players for whom this format is less suitable can play the All In Or Fold – Sit & Go format.
This All In or Fold game is played as a tournament with buy-in options of $0.5, $2.5, or $10. As soon as 16 players register, the tournament will start. The players will be divided into 4 different tables and each player will receive 3 stacks of 800 chips each. Each player can choose if he wants to play with all stacks together and start with an amount of 2,400 chips (clicking on the number next to the chips mark will add 800 chips) or use one stack at a time.
The winner of each table (4 tables in total) will move on to the final table where there will be 4 players who will receive, again, an equal amount of chips – 3 stacks of 800 chips.
Rules of the Game:
 Tournament start – as soon as 16 players register.
Act time 12 seconds.
All players who reach the final table will win a prize.
Did you like All In or Fold? You might also like Rush & Cash. To play special poker games Register now for 7XL Poker.
Frequently Asked Questions
Sign Up For Your
Favourite Poker Platform