How to Make a Deposit:
Step 1:
Log into the 7XL poker software on your computer, tablet, or mobile device. As soon as the software comes up, click on the Cashier button (marked with red square).
Step 2:
In the Cashier menu, click on the Deposit option and then, choose Bitcoin as the payment method with which you want to transfer money to your account (you can also deposit using Tether currency, which is another cryptocurrency whose value is stable and is always equivalent to 1 dollar, but 7XL charge a fee for using it).
On the next screen, you will see a long Bitcoin wallet address, a combination of English letters and numbers (indicated by the upper red arrow).
This is your Bitcoin wallet address in your 7XL account, and you Must deposit the bitcoin only for this address.
Copy your address using the COPY button and PASTE it to the wallet or website from which you want to send the Bitcoin.
If you want to know the value of your Bitcoin, use the rates calculator to know exactly what your bitcoin value is according to the current rate (marked with the red arrows).
Your funds (Bitcoin) will enter your account after 1 confirmation of the Bitcoin network.
 How to Withdrawal Money From 7XL 
The withdrawal operation is simple and fast, and it starts by pressing the Cashier button.
On the next screen choose Withdrawal (indicated by the top red arrow).
You can choose to withdraw funds using Bitcoin directly to your Bitcoin wallet or to withdraw funds using Tether stable coin direct to your wallet such as Metamask (Indicated by the red arrows).
If you chose to withdrawal using Bitcoin, enter the amount you want to withdraw (In dollars) in the left column (indicated by the left arrow). On the right column add your wallet address (indicated by the right arrow) to where you withdrawing the money (it is very important to make sure that the wallet address is accurate to avoid losing funds).
Then click on Order Withdrawal and confirm the transaction. The transaction will be processed and will be transferred to your Bitcoin wallet up to 10 hours from the moment the withdrawal is made.
You have nothing to worry about the rate changing of the Bitcoin while waiting. Because, the Bitcoin rate will be set right before sending your funds to your wallet.
How to Transfer Funds From Another Player in 7XL Poker?
If you have a friend/s who is already playing poker with 7XL, they can send you funds to your account in just a few seconds.
Just tell your friend to click on the Cashier button (if he using the laptop or tablet poker app, (indicated by the red arrow) or if he using mobile device, to press on the plus (+) sign in the mobile menu.
On the next screen, (see attached picture)
Click on Transfer (indicated by the top red arrow).
Click on Transfer to – Username (marked by the, middle red arrow) and type in the player username which need to send funds to (the username you pick during registration).
Type in the amount you want to transfer (indicated by the lower red arrow) and click on the Transfer button at the bottom of the page.
Funds will be transfer to your account immediately and you will be able to start playing poker online.
How to Buy Bitcoin in Three Minutes?
Make a quick deposit to 7XL Poker using credit card to buy Bitcoin.
The process of purchasing Bitcoin is simple and fast and not complicated at all.
You have two recommended options for buying Bitcoin with a credit card.
With these two website you can send the Bitcoin directly to your 7XL poker account and to start playing poker online immediately.
First Option MoonPay
Purchase Bitcoin using a credit card at MoonPay.com
This is the fastest way, to buy Bitcoin and to sent it directly to the wallet address you choose (for example your bitcoin address in the 7XL poker app).
The advantage using MoonPay, is that there is no need to upload an ID, only to type in some personal details. The downside is that you can buy with your credit card up to $100 in each transaction.
To get started, go to MoonPay.com and type the amount in Dollars which you want to buy Bitcoin with. Make sure you are on the Dollar currency (USD) and on the receiving currency Bitcoin (BTC). and click on Continue.
Then type your email account.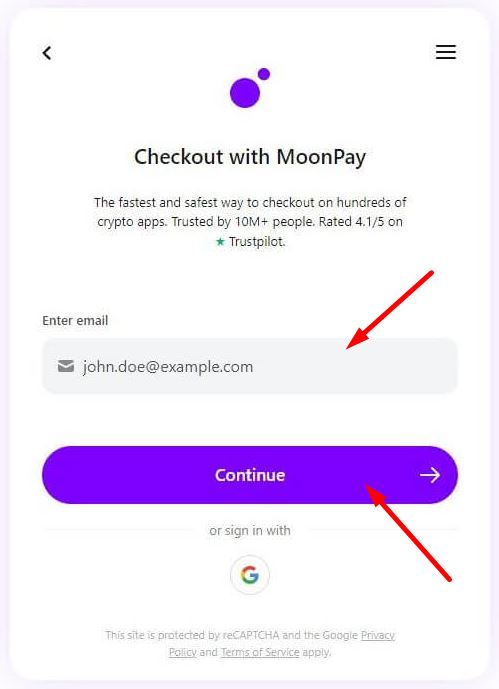 If this is the first time you are using the service, a verification code will be sent to your email account, copy the code, and type it, click Continue.
Type in your personal details.
and your credit card billing address (Use accurate details only, otherwise the credit card company will not approve your transaction).
Then, type in your credit card information and click Continue.
On the next screen, enter your Bitcoin wallet address (it can be your personal wallet or your Bitcoin address in the 7XL app) when finished, click Continue again.
After that, confirm your transaction, and on the next screen make sure that all the details you have entered are correct.
If everything is correct, click on Pay.
Some credit card companies will do a quick verification for this transaction, and will send you a confirmation code to your phone number associated with the credit card you used.
Enter the code you received.
After approval, your transaction is in process. It can take between few minutes and up to a few hours (usually it takes a few minutes to complete the purchase and to send the Bitcoin).
After the final approval (When all circles are green) you will receive an email summarizing the transaction.
On your credit card bill, you will see a charge from – MoonPay.
Second Option buy.chainbits.com
Purchase Bitcoin using credit card at buy.chainbits.com
Another easy and fast way to purchase Bitcoin and to sent it directly to your wallet address at 7XL poker app, is using buy.chainbits.com.
The advantage is that the transfer is made immediately and does not require you to open any trading accounts in any crypto trading exchanges. The disadvantage is the process fee is bit high.
To get started, go to buy.chainbits.com, type the amount in Dollars you want to purchase Bitcoin with, and enter your wallet address (where you want the money to be sent, your private wallet or your wallet address on the 7XL poker app).
Next, choose your preferred payment method, payment by credit card (recommended) or payment by bank transfer, and click Continue.
On the next screen, type in your credit card information, when finished, click Next.
Fill in the additional details to confirm your credit card belongs to you. When finished, click on Pay Now.
Review and confirm your transaction by clicking I Agree.
Last step is to upload a photocopy of your ID card from both sides (driver's license is recommended) fill in your details exactly according to the ID card you uploaded.
When Finished, click on Upload Document.
After clicking, the system will process all your data (several seconds) and if all the details are accurate, your transaction will be confirmed, and the Bitcoin will be sent to the wallet address you specified.
Sign Up For Your
Favourite Poker Platform